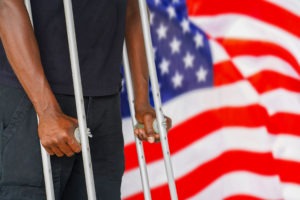 Yes, you can receive your military retirement pay and VA disability if you served more than 20 years. You must also qualify for Concurrent Retirement and Disability Pay (CRDP) by having a disability rating of at least 50%. The total amount you receive will depend on your service-related disability. Still, CRDP benefits cannot exceed the amount you would get as a pension calculated with your years of service. 
What Is Concurrent Retirement and Disability Pay?
The Department of Veterans Affairs requires you to waive some section of your gross pension to receive disability compensation. This aspect means that if you receive $600 monthly, your retirement pay will reduce by an equivalent amount.
Concurrent Retirement and Disability Pay is an exemption of the VA waiver. This benefit type gradually restores your pension by eliminating the amount you relinquish. If you qualify for CRDP, VA will not deduct any amount from your pension apart from taxes. In addition, you will receive the untaxed disability compensation you are eligible for based on your rating.
For a free legal consultation, call 1-888-392-5392
What Is Combat-Related Special Compensation?
Combat-related special compensation (CRSC) entitles some veterans to tax-free monthly benefits. In addition, it reimburses retired vets and those with injuries associated with military service. However, unlike CRDP, CRSC does not prevent the VA waiver.
Hence, if you qualify for this benefit, VA will still deduct the disability benefits from your pension. However, you will still receive your disability payment, depending on your rating. Thus, you could get three checks:
CRSC reimbursement pay

Retirement pay less the CRSC amount

VA compensation
While most veterans qualifying for CRSC receive three checks, you may get two under certain circumstances. For example, if your disability compensation is more than your full pension, the VA will eliminate retirement benefits to prevent double pay.
How to Apply for CRDP or CRSC
When seeking CRSC benefits for the first time, you would use DD Form 2860. On the other hand, if you need a decision review, ask for a reconsideration application from your service branch.
Once VA receives your documents, it will assess them and send feedback in writing. Then, if you qualify, you will receive an approval letter indicating the amount you get monthly.
On the other hand, CRDP does not involve an application process. Instead, VA will remove the waiver and restore your full retired pay if you qualify for the benefit.
Click to contact our veteran's disability lawyers today
Can I Waive My Retirement Pay Benefits?
Veterans have the option to waive their disability compensation from VA. They can also opt out of the retirement pay issued by the Department of Defense (DoD). So, how do you decide which option to select?
Keep in mind that VA disability benefits are not taxed, so consider which option makes more sense for you. You can fill out VA Form 21-8951-2, the Notice of Waiver of VA Compensation or Pension to Receive Military Pay and Allowances, if you decide to waive your VA compensation and receive military pay instead.
In addition, your dependents will still enjoy DoD medical benefits, provided your disability rating is at least 30%.
Complete a Free Case Evaluation form now
When Will You Receive Your First Military Pension Check?
You will receive your initial military retirement payment 30 days after your release from active duty. In some cases, you may also get the check on the first business day of the month following when you were to get your first payment.
Once your first payment arrives, DoD will send a letter indicating how it calculated your pension. This document may include information like any deductions and your duration of service.
DoD will then send subsequent military retirement checks on the first of each month—or the next business day if the first falls on a holiday or a weekend.
When do You Get Your VA Disability Check After Retiring?
If you qualify for CRDP, VA will not send a separate check for disability compensation. Instead, it will include the amount in your pension so that you receive both payments simultaneously.
If you do not receive your check within 15 days from the expected date, it is advisable to contact VA. You will also follow this process if you change your contact information, address, or bank account.
Contact a Lawyer for More Details About Military Retirement and Disability Pay
A veteran's disability lawyer can gauge whether you qualify for both CRDP and CRSC benefits. They can also identify the option you should file for a waiver if you are not eligible.
A lawyer can also assist with the decision review process to help you seek a higher rating and qualify for CRDP. Contact a disability attorney today for a free case assessment.
Call or text 1-888-392-5392 or complete a Free Case Evaluation form