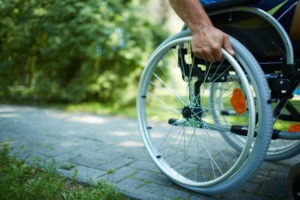 Yes, you can get VA benefits from secondary service-connected disabilities.
How to Apply for Secondary Service-Connected Disability Benefits
To file for secondary service-connected disability benefits, you use either VA Form 21-526EZ, Application for Disability Compensation and Related Compensation Benefits or VA Form 20-0995, Decision Review Request: Supplemental Claim. Which form to use depends on whether or not you have previously filed for the secondary service connection before.
Which form to use:
If you have previously filed for the secondary service-connection, and been denied (and the time to appeal the denial has expired), the 20-0995 is the proper form to use. *Note this will also require the submission or identification of new and relevant evidence.
If you have never filed a claim for your secondary condition, 21-526EZ is the proper form.
Previously, a veteran applying for secondary service-connected disability benefits would complete and file VA Form 21-526b. However, as of February 2019, this form has been discontinued. The U.S. Department of Veterans Affairs (VA) no longer accepts the form at their intake centers.
For a free legal consultation, call 1-888-373-4722
Secondary Service-Connected Disabilities Often Go Unclaimed
It is not uncommon for a veteran to suffer from a service-connected disability that ends up generating additional health problems. The new physical ailment turns into an independent physical issue that can create as much or even more trouble than the original, service-connected disability.
Interestingly, many veterans do not file a benefits claim for their secondary service-connected disabilities. It is unfortunate because these disabilities result from veterans' service to their country, and veterans should receive the compensation they need and deserve for these conditions.
Requirements for Establishing a Secondary Service-Connected Disability
To establish the relationship between your service-connected condition and the secondary condition, the VA will need:
Evidence of the diagnosis of your secondary condition, and
Medical nexus evidence linking your primary condition to the secondary condition. This evidence must provide an opinion that your secondary condition is due to or aggravated by the primary condition. The nexus opinion can come from a treating physician, a private doctor or a VA Compensation & Pension Examiner, but it must be from a medical professional.
Click to contact our veteran's disability lawyers today
If You Got It Wrong the First Time, You Can File an Appeal
Filing a claim to get VA benefits for secondary service-connected disabilities is tricky business. One minor mistake can land your claim in the denial stack with VA. Do not lose hope if your claim is denied. You can appeal, and when you do a veterans' disability benefits lawyer can help navigate you through the confusing process.
You have a limited time in which to file your appeal, so if you want to pursue those secondary service-connected benefits, you should act soon. Veterans benefits lawyers can help ensure that you file all the necessary documentation in time and do not miss out on your chance for well-deserved financial aid.
For VA disability legal help, call (888) 373-4722.
Call or text 1-888-373-4722 or complete a Free Case Evaluation form