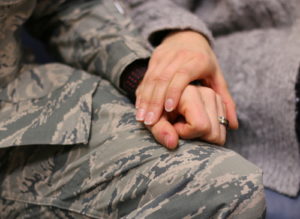 Between 5 and 10 percent of people who suffer from post-traumatic stress disorder (PTSD) encounter long-term problems with their relationships, according to the U.S. Department of Veterans Affairs (VA).
The person with PTSD experiences many symptoms that impact the way they interact with others. PTSD affects relationships because people with PTSD often struggle with communication, problem-solving, and closeness. This presents problems in relationships, and the way the partner in the relationship reacts to these difficulties can further exacerbate the issue.
How a PTSD Survivor Feels
Although many PTSD survivors eventually recover from the feelings of anger, detachment, or worry that initially interfere with their relationships with family or a partner, there are others for whom these psychological and emotional symptoms wreak havoc on relationships for a long while.
Certain emotional symptoms play a distancing role in relationships. For example, a person with PTSD can exhibit:
Distance
Numbness
Irritability
Jumpiness
Worry
Nervousness
Inability to relax
Antisocial behavior
Disinterest in sex
Inability to relax
For a free legal consultation, call 1-888-392-5392
Memories That Keep Resurfacing
The traumatic events behind a person's PTSD reappear in the form of brutal memories or flashbacks. When the person identifies an activity as one that could trigger such a memory, they might avoid the activity all together. This serves to further isolate them, as well as either distance them from their partner who continues to engage in these activities or create negative feelings of depression or resentment in the partners who also avoid these activities for the sake of the sufferer.
Another way these memories commonly manifest is through nightmares. The nights of sleeplessness can result in both the person with PTSD and the partner suffering from lack of rest or further distancing of the couple if a partner decides to sleep elsewhere so they can sleep.
Unhealthy Coping Mechanisms
As a person with PTSD struggles with feelings and problems with impulse control, they may push their partner away—sometimes even leading to verbal or physical violence. Self-medicating with drugs or alcohol can further drive a wedge in relationships.
While some PTSD sufferers take this course of action, others take the course of becoming overly dependent on their loved ones. At the same time, they are unable to reciprocate emotionally, leaving partners feeling like they are working as a one-person team.
Click to contact our veteran's disability lawyers today
How Partners and Loved Ones React
The grave misfortune of the impact PTSD has on the survivor is twofold. Their actions affect their relationships, and their loved ones' reactions to the behavior can come full circle to further hurt the person with PTSD.
The emotions that loved ones feel toward a PTSD survivor are complicated. They run the gamut from sympathy or pity to anger, fear, resentment, and annoyance. It is also not uncommon for a partner to develop an unhealthy empathy, assuming the same emotional reactions as the survivor.
None of these reactions works to help the PTSD sufferer in their healing. The relationships worsen.
Complete a Free Case Evaluation form now
Survivors of Man-Made Trauma Can Suffer More
VA identifies some types of trauma as "man-made." This trauma includes exposure to combat, torture, terrorism, and being kept as a prisoner of war. As such, veterans often fall into this category of PTSD.
The effects of man-made trauma severely impact relationships. These survivors commonly feel the following emotions:
Betrayal
Horror
Endangerment
Terror
Understandably, these emotions make it difficult for the person with PTSD to let their guard down, and closeness can be scary.
For PTSD Survivors: How to Manage a Healthy Relationship
According to VA, by following these tips, a PTSD survivor can work toward maintaining healthy relationships:
Create a support system that will help you with your PTSD while you dedicate effort to maintaining your relationships.
Be open, honest, and share your feelings respectfully and compassionately.
Work on your problem-solving and communication skills.
Explore avenues for relaxation, creativity, and recreation.
For Loved Ones of PTSD Survivors: How to Help Your Loved One
It is not easy to watch a loved one endure the emotional darkness of PTSD. You will feel the strain on yourself, as well as on your relationship. Know that your relationship is important—not only in the way it has always been, but also in the sense that it may be the only fuel that drives a person with PTSD to safer harbors. Your relationship brings self-esteem, coping support, and a relief from the feelings of isolation.
VA provides a list of resources to help you as you stand by your veteran, help them with their PTSD, and rescue your relationship.
A Veterans' Disability Lawyer Can Help You Get PTSD Benefits
If you have applied for disability compensation for your service-connected PTSD, and VA denied your claim or underrated your condition, don't give up. A veterans' disability lawyer understands how PTSD affects relationships and can file an appeal so you can get the compensation you deserve.
For more information on VA disability lawyers, call (888) 392-5392.
Call or text 1-888-392-5392 or complete a Free Case Evaluation form