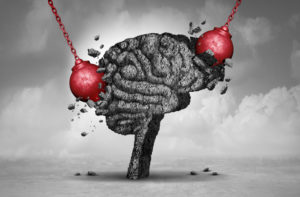 When veterans are diagnosed, they can wonder whether PTSD is considered brain damage or brain injury. According to research appearing in Dialogues in Clinical Neuroscience ("Post-Traumatic Stress Disorder vs. Traumatic Brain Injury"), post-traumatic stress disorder (PTSD), and traumatic brain injury (TBI) frequently coexist due to the fact that brain injuries often result from traumatic experiences. Furthermore, both PTSD and TBI share several overlapping symptoms, problems, and treatments.
How TBI May Impact PTSD
The Dialogues in Clinical Neuroscience article reports findings that TBI appears to increase the risk for PTSD. The article cites a massive military study in which "16 percent of troops who sustained bodily injury indicated PTSD… 44 percent of those with mild TBI screened positive for PTSD."
For a free legal consultation, call 1-888-392-5392
When TBI and PTSD Coexist
When a person suffers from both PTSD and TBI, the conditions can be difficult for the patient to separate. Although PTSD is considered a mental disorder, the stress that comes with it can lead to physical damage in a patient; and TBI, which is a neurological disorder, can impact thinking, learning, social skills, and communication. It is easy to see how the two conditions can entangle with detrimental effects. In fact, each condition feeds and strengthens the other.
PTSD and TBI Share Many Symptoms
The two conditions actually share many of the same symptoms, albeit with significant differences related to the causes or manifestations of the symptoms. Both PTSD and TBI provoke the following symptoms in patients:
Memory problems
Sleep issues
Isolation
Issues controlling emotions
Fatigue
Depression
Anxiety
Difficulty talking about the trauma
Anger
Substance abuse
Click to contact our veteran's disability lawyers today
Navigating the "Perfect Storm" of PTSD and TBI
Although PTSD and TBI differ in their medical definition and root cause, the two have similar symptoms, and when these factors combine, it can result in a perfect storm of psychological instability for the patient. Loved ones and caregivers, too, struggle with finding which symptoms are being caused by which condition—never mind how to manage them. Understanding whether PTSD is considered brain damage or brain injury, and whether a veteran has PTSD or TBI can be confusing.
It is very important to stay on top of the latest research in this area, have a good team of clinicians helping treat the patient and their loved ones/caregivers, and form a support network of family, friends, and peers.
Complete a Free Case Evaluation form now
Understanding PTSD
The American Psychiatric Association's DSM-5 describes criteria that comprise a PTSD anxiety disorder. There are diagnostic criteria which "require exposure to a traumatic or stressful event."
A Veterans' Disability Lawyer Can Help You Get PTSD Benefits
If VA denied your application for disability benefits for your PTSD, a veterans' disability lawyer can help you file an appeal.
To see how a veterans' disability lawyer can help you, call (888) 392-5392.
Call or text 1-888-392-5392 or complete a Free Case Evaluation form